Curtains play a large role in setting the tone for your room. Too heavy, and they make a room feel dreary. Too light, and the room seems unfinished. When choosing curtain fabric, color, texture and price are major considerations. Defining what you want curtains to do for your room will help you select materials that fit your budget while enhancing your decor.
We proudly offer a wide variety of quality fabrics from top-of-the-line textile companies like Duralee, Robert Allen Designs, Fabricut, and Kasmir.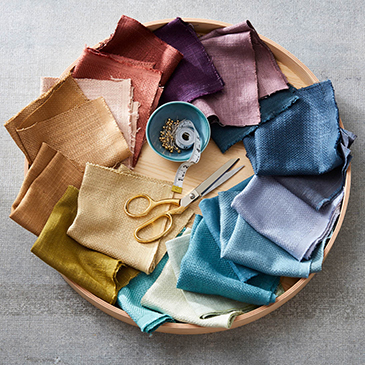 Create a Casual Atmosphere




Do you sell fabric by the yard?
Yes, our fabrics are custom ordered. You can buy 1 yard or as much as you'd like. We have 1000's of colors and patterns to choose from.
What fabric brands do you sell?
We carry several brands of fabrics including Robert Allen, Kasmir, Duralee, & Fabricut.
Do you have flame retardant fabrics for commercial use?
Yes, we carry both drapery and upholstery weight fabrics for commercial use. These can be used for window treatments and Privacy Curtains.
LET US HELP YOU SELECT THE PERFECT FABRIC
We are experts and can answer all your questions
and help create your dream window treatments.